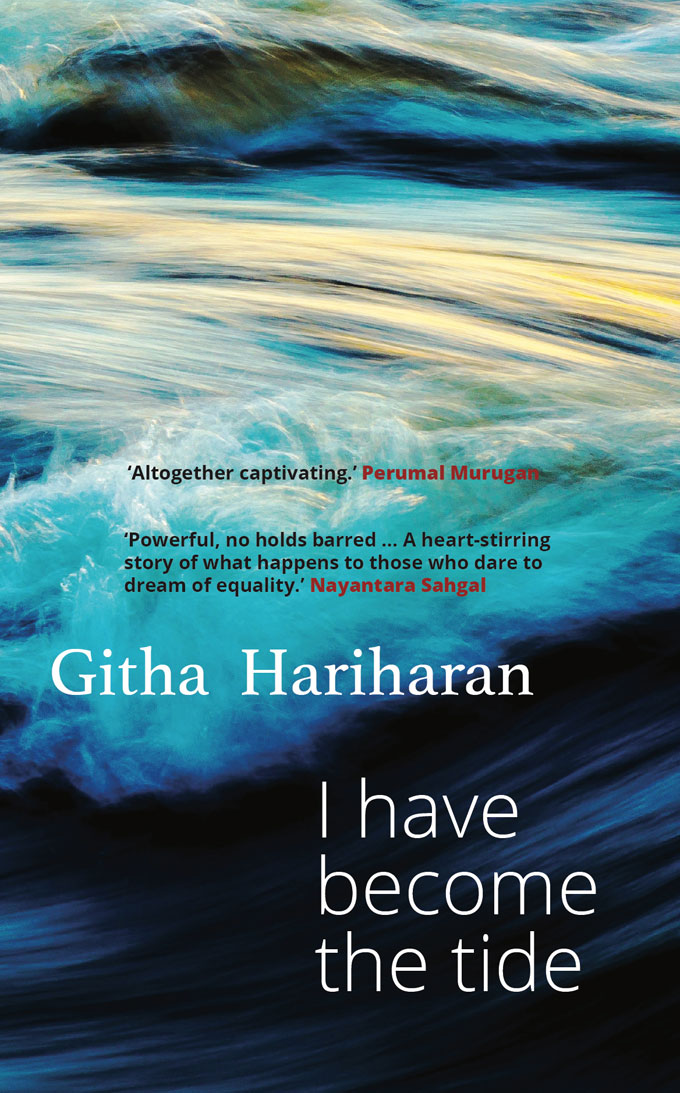 'Powerful, no holds barred … A heart-stirring story of what happens to those who dare to dream of equality.'
'Altogether captivating.'
"Where is that land where water flows free?"
A powerful, beautifully imagined novel from Githa Hariharan asks when the tide will turn to make this dream real.
Hundreds of years ago, Chikka, son of a cattle skinner, finds a home in Anandagrama, among people who believe everyone is equal; people whose prayer is inseparable from song and work, the river and the land, friendship and love. Chikka becomes Chikkiah the washerman who sings by his beloved river. But the Anandagrama movement against caste is torn apart, and its men and women slaughtered or forced to flee.
In the present day, Professor Krishna makes a discovery. The saint-singer Kannadeva is none other than the son of Chikkiah. The poets and fighters of Anandagrama have been forgotten; Kannadeva has been whitewashed into a casteless 'Hindu saint'. Professor Krishna reconstructs many lives of resistance from his findings in a palm-leaf manuscript. But will the bigots, armed with bullets, bombs and hit-lists, let scholars and poets do what they must?
Three Dalit students—Asha, Ravi and Satya—dream of a future that will let them and their families live with dignity, just like everyone else. From Chikkiah's story to theirs, a few things may have changed, but too much has remained the same.
Three distinctive narratives intertwine past and present in compelling ways to raise an urgent voice against the cruelties of caste, and the destructive forces that crush dissent. But they also celebrate the joy of resistance, the redemptive beauty of words, and the courage to be found in friendship and love. I Have Become the Tide is deeply political, but it never loses sight of humour, tenderness—or the human spirit.
"a brilliant attempt to give back to people… forcibly placed at the bottom of India's tyrannical social order, a measure of dignity, voice, respect… There is a difference between appropriation of narrative and experience and an empathetic retelling… without claiming ownership…"
The Book Review
"Fortified by poetry, Githa Hariharan's novel I Have Become the Tide holds a mirror to a contemporary India riven by centuries-old prejudices… Hariharan etches many unbearable moments of humiliation and sabotage, and through the book are shades of the denouements that too many have met for daring to oppose the caste system or political and religious fascism. There is a necessary bleakness to this book that the poetry assuages, but insists we do not deny: "Only those who have sweated day after day/ know what it is to be soaked, O friend." I Have Become the Tide is required reading for the contemporary Indian context, a highly recommended novel sowed with verse, which provides an unflinching reminder of the eventualities of hatred. It is full of pain. But it is also buoyed, like a boat, on much depth and beauty."
Hindu Business Line
"There are not many writers of the mettle of Githa Hariharan who have honed the rare capacity to travel to, and imagine, the worlds behind the headlines. From this, she produces fiction… savage in its rage… (but) there is tenderness and hope in each of the stories, of love and friendship in the hardest times, and of audacious dreams of equality… What renders the book harrowing is its depiction of this inexorable reality of India, past and present – that all demands for inequality are condemned to violent repression. This is as true of the 12th century as the 21st. But what still glimmers through its dark recesses is that this is as much a story of resistance as it is of oppression. People are mercilessly crushed, but their spirit endures."
Scroll
"A luminous novel… powerfully written. Hariharan pulls her readers from the tightly constructed world of the three friends and throws them down in front of today's newspaper… The experiences of the three students in I Have Become the Tide will ring true for anyone who has faced discrimination in an educational institution… In his hostel room one night, Ravi dreams of a putrid canal behind his house and a torrential rain that makes it flow like a river. Floating in the current is a nest with three eggs, the three friends who will go forward one day. These are the episodes that make Hariharan's novel luminous. The songs in it, written down by Kannadeva but not his alone, are spots of light and warmth in a dark story, and the reader will want to return to them long after the novel is read."
Hindu
"This searingly honest novel is woven around songs and water… there's much to be afraid of in this world that Hariharan shows us and in which we are all immersed… Words can become bullets, puncturing the lives of student activists, academics and authors as we know only too well, from reading the newspapers… But words, like water, can also be the source of great positive power. Words are what Hariharan has harnessed in this fictional tale about ancient truths and transient lives. By linking the familiar events of today to a poet-mystic of the past, she creates a swift-flowing current of ideas from then to now."
India Today, Leisure Review
"I Have Become the Tide asks important questions about troubled times. The most effective aspect of the novel is the cross-cutting between the world hundreds of years of past and the one we live in today, arguing that little has changed. The basic questions have remained the same across time: what does it mean to be a citizen in an unequal society? And how does one protest against injustice when the price to pay is so high?"
OPEN Magazine
"Hariharan astutely conveys the many burdens that Dalit students face in universities—the social ostracization and the sheer pressure of always having to be an embodiment of defiance against caste strictures…"
Live Mint
"In using devotional poetry as a contentious issue in the novel, [Hariharan] accomplishes two things. One, she destabilises the notion that poetry and devotion are a domain of the powerful. Two, she lets these tropes make space for a different discourse about the oppressed in saying that the oppressed need not always be associated with passivity. Voice, and thereby poetry, are effective strategies of articulation and pride — something they have largely been denied by those who have always 'celebrated' them as the oppressed."
Deccan Herald
"Githa Hariharan's new novel is an angry, intimate look at systemic social oppressions… The phrase "the more things change, the more they stay the same" is often used with an undertone of inevitability or resignation. I Have Become The Tide conveys the same message, but with a burning rage… While Hariharan's book is about a call to action, at a certain level, it is also encouraging. By moving beyond the constraints of a headline, she shows that these stories do not fizzle out when they drop out of the short attention span of the ever-churning news machine. While seemingly fragile, the voices of defiance and anger do not exist in isolation — they become part of a rising tide."
The Indian Express
"The songs in Hariharan's novel are discourses on the characters' experiences as the downtrodden, rejected by the upper-castes and their temples and streets, and a declaration of their humanity… These songs are heartfelt and memorable in themselves, and as poetic subversions to the prose… The most poignant narrative is that of Satya, the medical student who faces increasing isolation and institutionalised casteism… Satya's discomforting reality holds a mirror to the casteism present in Indian higher education institutions today… Water bodies, life forces of the South Indian peninsular and the subcontinent at large, provide Hariharan with the best metaphor for the growing tide of resistance and dissent. Unlike the stagnant, polluted canals and ponds along which Dalit settlements housing Ravi's s family and Chikka's father are relegated, the tumultuous flowing and intermingling of chaotic rivers best signify the gathering momentum of the Ambedkarite movement, the flowing bodies of protestors filling the streets."
Hong Kong Review of Books
"This is a tale for the times: when the Hindu Right is brutally watchful of any and every attempt to critically interrogate Hindu society, and Hindu society appears determined to thwart Dalit assertion, particularly in educational and intellectual spaces. However, as the novel reminds us, the present moment, of terror and social wounding, is part of a continuum."
Biblio
"Hariharan is quite marvelous in her rendering of Kannadeva's songs and contemporary Dalit poetry, and her quick, vivid prose suggests the flow of water that is central to the theme."
The Telegraph
"I Have Become the Tide contains poetic joy and political frustration, all told with storytelling prowess. It encapsulates not only India but the world we live in today."
World Literature Today
"Hariharan, with her remarkable ability to move back and forth in time and space, creates stories, verses and images that expose the hostility that defines contemporary India…"
Kathmandu Post